This beautiful three bedroom two bath apartment has been completely remodeled from floor to ceiling. The rent is $2900 per month with a security deposit of $3625 + $45 per set key deposit.


You'll have plenty of space to relax in the 1585 square feet that this home offers. The front portion of the unit, hallways and bathrooms have brand new tile flooring, while the three bedroomms are newly carpeted. In the kitchen, a brand new refrigerator is provided plus the unit has a brand new stove, and dishwasher. There is a double oven and Microwave oven/hood fan/light. The windows in the living room have vertical blinds. The dining area has a ceiling fanlight, and a sliding glass door which leads to the semi-private patio area. All three bedrooms have ceiling fans and vertical blinds as well. One bedroom has a sliding glass door that leads to the exterior. The hall bathroom has a tub/shower combination. The master bath has a walk in shower. There is a stacked washer/dryer inside the unit.

Click here to download an application

---
Floorplan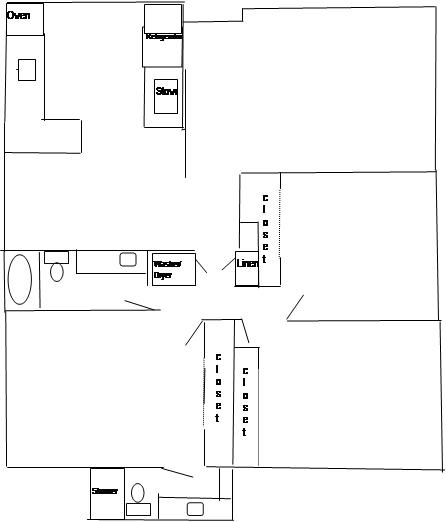 The living room is very large.
The Living Room is adjacent to the large Dining Room.

The Kitchen is completely new, cabinets, countertops, refrigerator, cooktop, dishwasher, sink, etc
| | | |
| --- | --- | --- |
| | There is a stainless steel brand new sink. | In the Hallway there is a stacked washer and dryer |
| | | |
| --- | --- | --- |
| There is a Full Bathroom off the hallway. | The large Master Bedroom has room for a King Size Bed without making the room look small. | There is a bathroom with walk in shower off the bedroom. |
More pictures of the Master Bedroom
| | | |
| --- | --- | --- |
| | The 2nd bedroom has built in bookshelves, drawers & cupboards. | |
The Third bedroom has a sliding glass door that leads to the exterior.
Upstairs there is an attic which is accessible via a ladder that extends down from a trap door in the ceiling. There is ample space to store boxes, such as Holiday decorations and other seasonal items.
| | |
| --- | --- |
| | |
---
Rental Requirements
Completion and approval of Apartment House Association "Application to Rent." Each person, 18 and over, must fill out a separate application completely. This must be signed in the presence of the manager, with appropriate ID. We prefer local references. We do not accept co-signers.
For your own financial security, the rent should not exceed 33% of net income, and you should have enough funds reserved to handle financial emergencies. Please submit the original pay stub or any financial grant or award letters to establish financial qualification. If you are self-employed please submit copies of your last two years 1040 tax form to substantiate income. These will be returned to you. Month-to-month tenancy with 30 days written notice to move.
House rules: Be considerate of your neighbors. Please do not have any loud noise that would disturb others, especially between the hours of 11:00 PM and 7:00 am.
Each application must include a $35 non-refundable credit report fee. If your application is accepted, you will have two days to meet with the manager to sign rental papers or you will loose all rights to the unit. If you submit an out-of-area check, we will have to hold your application until the check clears the bank.
There are no recreation areas on the property. Back to 2740 De Soto
Back to Vacancies
Back to Home Page